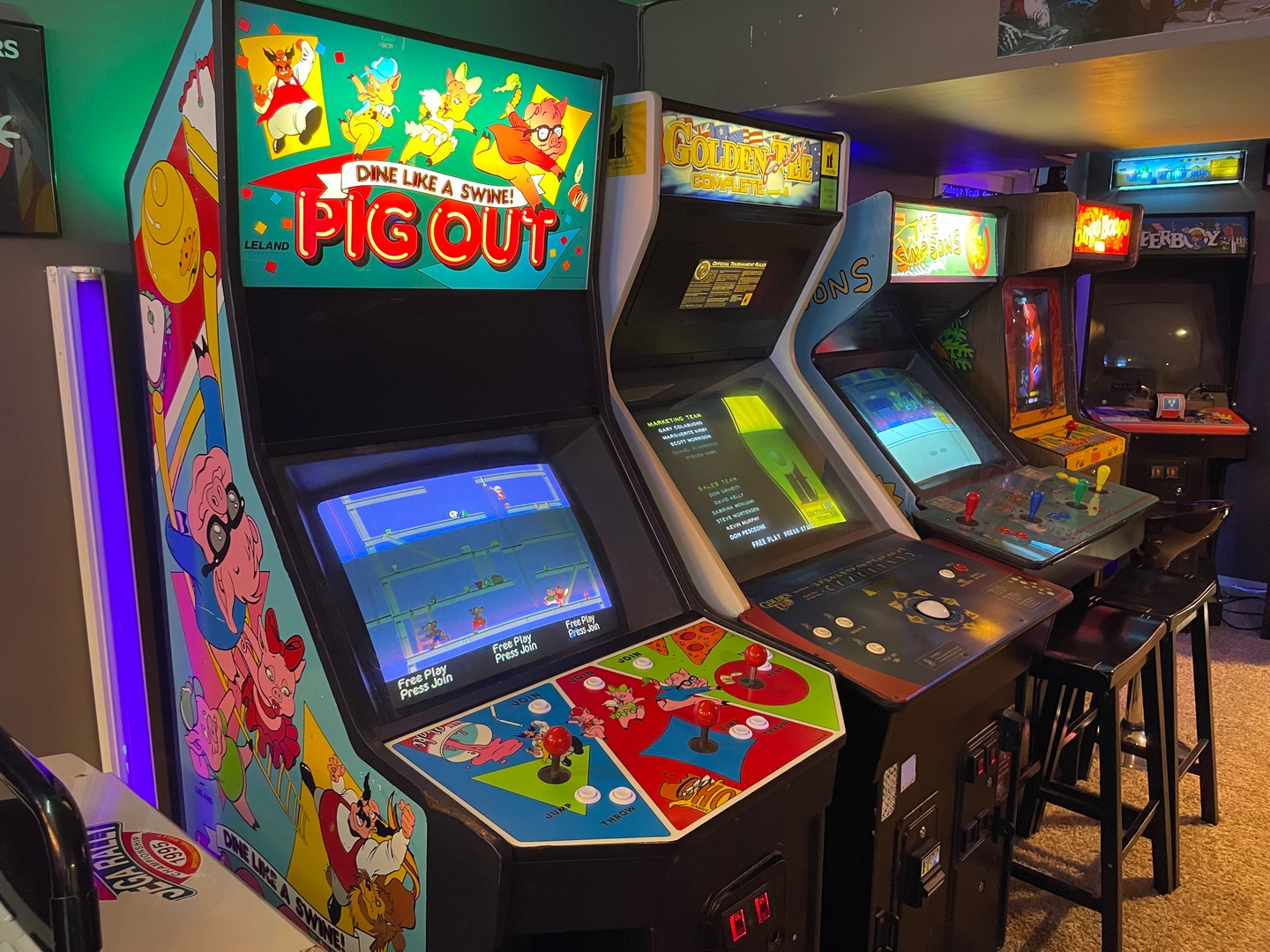 Pick Date: 8/13/23 A Pig Out arcade game, made by Leland in 1990. This game is a massive one. It clocks in at near 400 pounds and is chock full of 3 player vintage goodness. You play as one of three little pigs, who eat and drink their way through the levels all while being chased by big bad wolves and butchers. This game is both cute and fun, and if you eat and drink enough the pigs will make bodily noises. Yes, those sound effects are really in the game.

Just recently having moved my Rockola 470 jukebox out of the arcade to the upstairs living room, I had a gaping hole in my arcade line-up. Not even one week later, I was contacted from someone who owned a Pig Out arcade game. Amazing and awesome at the same time! Its been a long time since I've seen one and never thought I would actually own one. To say this was a blessing is an understatement. Those who know, well they know.

That being said, I made arrangements for the pickup on a Sunday afternoon. Now this pickup was site unseen, no pictures, no knowledge if it still worked. It was sitting in a basement for years on end and hadn't been powered up in a long time. It just so happens that day it began to rain cats, dogs and pigs. For this pickup, I wasn't going to let that stop me. I went out and bought a brand new tarp, hooked up the trailer and started the trek to Washington, MO. Luckily when I pulled up into the driveway, they told me I could drive around and back right up to the walk out basement. Yes! That was one heavy game, and I wasn't looking forward to trekking that one uphill. After I loaded up the game I wrapped it up real good in a tarp. Right when I was tightening down all the ratchet straps, it began to rain. And rain it did. All the way home it was a downpour, so much that I was actually worried about water getting underneath that tarp. Once I got home I backed into the garage and unloaded the game. After unwrapping the tarp, the game was dry. Nice.

I powered up the game for the first time and.... IT WORKED! Oink sounds and all, this game was fully playable. First thing I did was tweak the monitor settings for optimum color and brightness. Next, I cleaned off layer after layer of dirt and grime. This game was in EXCELLENT shape. Colors are nice and bright, control panel in gorgeous condition, and all I had to do was replace the fluorescent light. All that dust and the dark basement kept it in pristine condition. Now unfortunately for me, the game had to sit in my garage for about a week until all the rain and wet ground dried up. Finally, I trailered it back to my walkout basement and got it into the gameroom. In the end, I moved around about 12 arcade games to find a perfect spot in my line-up. I'm really enjoying this Pig Out arcade game, and I'm sure someday all my grand kids will too. This is probably one game that my kids will inherit and never be sold. Time to play some Pig Out in the Vintage Vault Arcade!
Click on images below to view image gallery