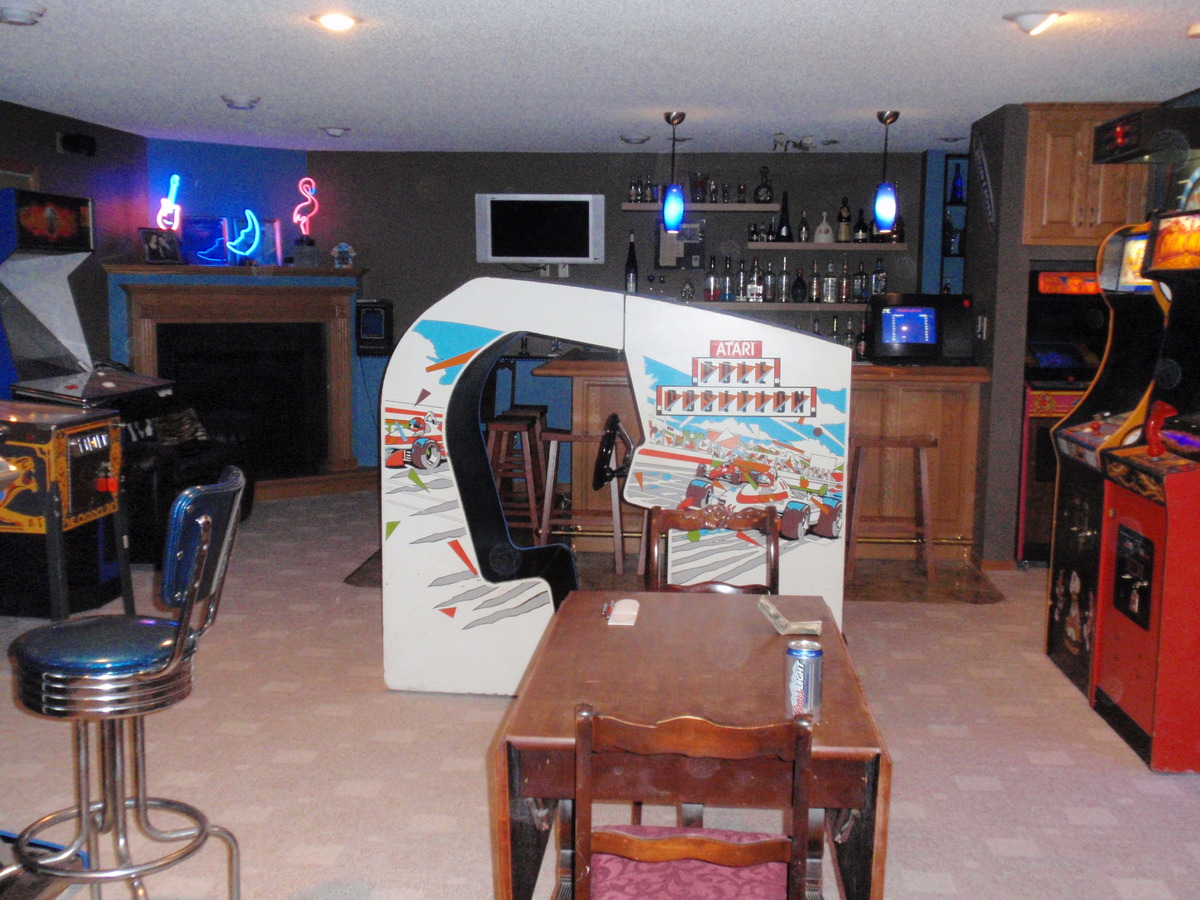 Pick Date: 10/16/09 Thats the day that I saw my grail for the first time since I was a little kid. The grail? A Star Wars arcade machine of course! As a child, I had an extensive Star Wars toy collection. As an adult, I first owned the box set of Star Wars on VHS, and then later the box sets on DVD. I have been to every premiere after the original Star Wars movie. I watch The Clone Wars, and have played multiple Star Wars games over the years from the Atari 2600 to the XBox 360. However, nothing compares to the original vector game, an Atari Star Wars standup machine. I have owned a Mame machine since 1997 (a computer that emulates old video games) and I have refused to play Star Wars on it. Why? Star Wars MUST be played with the original flight controller on a vector monitor, and I did not want to taint that memory with Mame. The price range of this game and the collectability factor of it has eluded me for years. I held out hope, followed leads from other states, and posted wanted ads. After buying, collecting and selling over 40 arcade games I thought I would never own a Star Wars.

Finally, on October 1, 2009 I received my first glimmer of hope. A fellow collector, Shawn, was selling his Star Wars game. In the past I had a few offers to sell me some beaters, but this is one game I wanted in nice working condition. Shawn was known in the collector community for his expertise in game restoration, and while the Star Wars was nice enough that it didn't need a full restoration at least I knew this game was well taken care of. Now I had 2 of my games for sale and after selling them I would have the funds to buy the Star Wars. This game was located in Minnesota, 2 states away and would be by far the farthest road trip I would have taken. After some correspondence I sold one of my games, and had leads to sell the other. I was taking a week paid vacation and this was going to be the perfect time to do this. Now my only problem was a wingman. That was going to be a long drive and I needed some company and help driving. As a long shot I contacted my friend Todd who was a fellow collector and told him of my plans to go to Minnesota. He brought up the fact that Mall of America was in Minnesota and he was sold on the trip. Now Mall of America is the largest mall in the United States and has 3 indoor roller coasters and its own amusement park. It turns out that the trip was taking us 5 minutes away from Mall of America so this was going to work. The plan was to leave on a Friday, pick up the game, get a hotel room, and get up the next morning and go to Mall of America before driving home. With that said, I contacted Shawn and arranged a day to come up and buy the Star Wars game.

Friday morning 8:22AM. Todd shows up at my house. Our bags are packed, he hooked up the Sirius satelite radio and GPS navigator in the van and we were on our way. As usual it was raining. It always rains when I buy and sell arcade games. Why? I don't know, but it was raining. It was raining in Missouri and then when we hit the Iowa border it was clear skies. Unfortunately, Iowa was a boring state. Literally nothing to see. The conversation was plentiful and the music good. We pull off for lunch around 1PM and eat at Arby's. We were wanting to try something different but fast food took over as we were on a time schedule. We get back on the road and Todd takes a snoozer. During this time we passed some massive windmill farms. The windmill farms were harnassing the wind to generate electriciy. These things must be seen to be believed. They were massive. One blade was as long as an entire tractor trailer. I know this because I saw a tractor trailer hauling a single blade from one of those windmills. By the time we cross into Minnesota it started raining again. Bleh. Luckily we were getting closer to our destination as this was our last state. 9 hours into our road trip we finally arrive in Bloomington, Minnesota... right in the middle of rush hour traffic. We find our hotel, check in, and immediately leave for Avon, Minnesota where Shawn and his Star Wars arcade machine waits.

At this point its raining hard, getting dark, and cars are everywhere. Another 1.5 hours on the road and we arrive at our destination. We had not eaten dinner and are more than exhausted from the road trip. Just a couple of minutes from Shawns house we decide to stop at a gas station and pick up some 5 hour energy shots. And pick us up it did, we were ready to make this happen. Now we arrive at Shawn's house, and it is a nice house I must say. First thing I notice when I pull up is that he has a 3 car garage, and 2 vehicles are parked outside. I tell Todd that this is definitely the sign of a collectors house, that the garage was probably taken over by the hobby. How right I was. Shawn greets us and brings us inside. We end up in his garage to go over his workshop. Among the many games waiting for restoration there was a Pole Position II mostly finished and a Mario Bros cab that was coming along tremendously. We chat up nicely, and meet his children and wife. We eventually end up in his gameroom and I beheld the Star Wars that was to be mine for the first time. It was love at first sight, as much as anyone can love an inanimate object. At that point it hit me that my quest was over. I was 650 miles away from home, had a pocket full of cash, and this was my grail. It was about to happen. Now a funny thing happened next. Shawn and his wife were such gracious hosts that myself and Todd lost sight of why we were there. He had quite an awesome gameroom, very flashy, and very comfortable. Shawns bar was lovely custom woodwork with nice hand and foot railing. His bar was loaded and ready to entertain. Todd took advantage of our hosts bar, and I helped myself to another energy drink. I was designated driver of course. We chat it up, check out his collection, and play a few games. Among what I remember of his collection in the gameroom was the following: Q*bert, Tutankhaman, Popeye, Donkey Kong 3, Playchoice, Outrun, Pole Position cockpit, a multigame or Mame, bartop touchscreen, Burgertime, Satan's Hollow, Ms. Pacman cabaret, Asteroids Deluxe, Lost World pinball, a gorgeous jukebox, a Nintendo Red Tent and of course a Star Wars. His jukebox had the prettiest neon artwork I have ever seen, and it sounded great on top of it. We met his parents or inlaws, I don't remember which, and it was all good company. All too soon it was getting late. We load up the Star Wars into my van and off we go.

We still haven't eaten yet and at this point the grill at most restaurants were closed. We stop at a Grizzly's restaurant bar and grill. The bar was open, grill was closed. No good. We stop at a Space Aliens which appeared open. This place was Minnesota's answer to your local arcade. We decided to pass as our local Chuck E Cheese arcades do not have the greatest of food, and we were absolutely starving at this point. We finally find an Applebee's which had their grill still open. The place was absolutley packed, we surmise that a Minnesota Vikings game must have just finished from all the Vikings jerseys. We order a kings feast, eat, and head back to our hotel room with the game in tow. I take one last look at the Star Wars game and lock up the van. We get in our hotel room and finally get to bed around 1:00AM.

Now here is the interesting part. Earlier that evening while hanging out in Shawn's gameroom he mentions to us that there is an arcade auction the next morning, only 30 minutes from our hotel. Could we, should we go? Bidding starts at 10AM, with game preview starting at 8AM. Well..... we decide to set our alarms for 7:30AM.
Click on images below to view image gallery