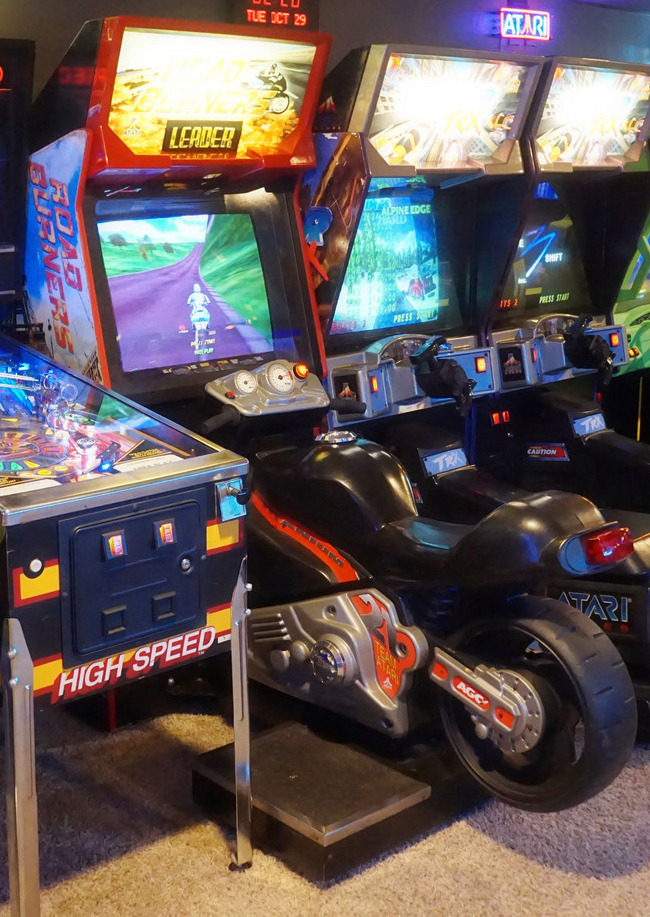 Pick Date: 3/21/11 MY FIRST MOTORCYCLE RACING GAME. Our story starts a week prior to this date. I was extremely frustrated looking at an absolute beater of a Harley Davidson game, and then lost an auction on another Harley Davidson game. Now when I say lost the auction, let's just say I let the guy have it. Yes, I could have bid all crazy and won the game if I wanted to but I won't overpay for any game. That just won't happen. So the Harley game I lost on was ebayed by Palmentere coin operated games in Kansas City. This was the same place I won an Emergency Call Ambulance last summer. Well Palmentere also had another game up for auction. This one was a different motorcycle game made by Atari games. It was called Road Burners. I look it up on KLOV, and it was an awesome racing game with tilted seat action made in 1999. Other Atari racing games I have is a Rush The Rock made in 1997, and 2 Vapor TRX's made in 1998. It would stand to reason that an Atari racing game made in 1999 would at least one-up any previous games. So this Road Burners auction peaked my interest. I watched the low bids down to the last minute. I decide to go for it and put in a low ball bid. The auction runs out of time and there it sat. I won the game. This game was 3.5 hours away in Kansas City and I just bought it sight unseen. Whoops! Time for a road trip!

So with at least a 7 hour round trip road trip I would have to have perfect weather. There can't be any room for error. Unfortunately day after day there was rain predicted. The rainy weekend turns into the next week. The next week I was on vacation, and spotty weather was predicted off and on all week. Luckily, that Monday there wasn't supposed to be any rain. This was the day I was going to make an arcade run. This was also the day before my birthday. I asked the wife if she and the kids wanted to come with me and we can make a day out of it. Interesting thing was my wife had 4 free movie tickets with popcorns and sodas to a Cinemark movie theater because she entered a contest last Christmas and won. This was around $80 of free tickets and concession stand goodies. Well, the closest Cinemark theater was in Kansas City 3.5 hours away, so we thought that we would never get to use them. Now, here was our chance. The plan was to drive into Kansas City, take in a movie, pick up the game, and come home. With that our plans were set on sunday night to take a day trip the next morning on Monday.

Monday morning comes with nice sunny weather and 80 degrees of pure bliss. I hook up the trailer, then print out the auction listing and we load up the kids. Now I had bought and paid for the game already, but after printing out the auction listing I was noticing the colors didn't look quite right on the arcade game monitor. It was missing any kind of green color. Now most people would declare "buyer beware", but this auction was listed for a 100% working game, and that's what I was going to get. Before taking off, I call Palmentere and inform them that I was concerned the green gun in the monitor might be bad, and they listed the game to be working 100%. The guy said he would have his technician look at the game and call me back. In the back of my mind I was thinking they might have to refund my money. Now the day was planned with a very timely agenda. It would take 3.5 hours to get to Kansas City and we were going to see Gnomeo & Juliet in 3D with the kids. At this point I wasn't sure if I would have a working game to pick up, so I was waiting to hear back from Palmentere before I get on the road. I waited 45 minutes and no call. With our time schedule, if we didn't leave at 10AM we would miss the starting time of the movie at 1:30PM. So I load up the wife and kids and take off at 10AM. I was banking that I would get a call on the road on the way there letting me know the fate of the game. I figured if worst came to worst and I got a bad phone call I would just turn around and go back home. I was really gambling with time here, but if things did work out I didn't want to miss the movie with our free tickets.

So off we go driving down the road. Still no phone call. Finally after being on the road for 1 hour I call Palmentere. They inform me that they found out the monitor had a bad chassis video board but they would have it fixed or replaced before I got into Kansas City. With that, I breathe a sigh of relief and continue on our journey. We pull into Kansas city and head straight for the Cinemark theater. Good old GPS takes us straight to the place with no guessing. We literally show up at the theater as the movie is starting. Now come to find out with free movie tickets you are not supposed to get into the 3D movies without paying something extra. However, the young lady let us in without charging extra and handed us our 3D glasses. My wife heads to the concession stand to get free sodas and popcorn and I take the kids into the theater. I do a beeline to the very back row as the movie is starting. Now I must say I didn't think I would enjoy Gnomeo & Juliet in 3D but it was quite an enjoyable flick. Yes, I liked it, AND it was free.

After the movie was over we start to walk out of the theater and I notice the movie theater's arcade. I just couldn't help myself, I had to see what kind of lineup they had. I walk into "Jumpers" arcade and my eyes fixate towards the left end. I kid you not, there they were, 2 Road Burners arcade games sitting side by side earning money on location. This was the same type of game I was going to pick up at Palmentere. Now I know I was getting a good game if a movie theater had 2 on location. My son climbs up on one of those motorcycles and starts to go crazy. I told him we were going to pick up the exact same game but we have to get going. It took a lot to pry him away from that game and back into the car. With that we leave the theater and head over to Palmentere.

I pull up to Palmentere and head into their warehouse to see my game for the first time. The guy I spoke with on the phone told me they got the monitor all fixed up and it has full greens now. Indeed the colors on the monitor looked good and sharp. I was happy. The technician who worked on it told me they had 5 of those same video boards with issues in the warehouse and he couldn't get it fixed in time so he pulled his working board off his test bench. I was eternally grateful and thanked the guy. He told me I had quite a nice game there. I have to admit, these guys at Palmentere were full on with customer service and I was quite happy with them. I ask for some help loading the 500 pound game into my trailer. The guy was going to go look for a a forklift but I was a little uneasy about that. It has been my experience that forklifts tend to tear up games like this. I ask him if he could give me a hand and we would muscle it up in there. He did and it got all loaded up. Again, good customer service. I used 4 tie down straps and 100 foot of rope to secure the game to the trailer. Overkill I know, but better than losing it on the highway. With that, we get back on the road.

With all the excitement of the day, a long car ride there, technicians fixing my game, and taking in a movie, the GPS was saying that I wouldn't get home until 7:13PM. This was a long day. The kids passed out on the way home. By the time I get back into Warrenton where I live, we where famished. We stop at a Taco Bell and the wife runs inside to get some take out. I couldn't help but put my 1 year old little girl on top of the motorcycle and take a few snapshots. She was mugging it up. So I get my Nachos Bell Grande and we finished heading home. We get home, eat, and then unload the game. I plug it in and play out a few games for good measure. This game was intense and my boy was really liking it also. He has now claimed it, that it's his game. Over the next few days I shop out my game, which means I get it cleaned up and thoroughly tested. I found out that it wasn't saving freeplay and calibration settings because of a specialized dead battery. I ordered and replaced that which was easy enough. I also found out that the steering potentiometer had a dead spot in it which caused a misread. I replaced it with a used 5K pot and that got it fixed right up. The game was now at 100% and time to move into the arcade. The game was picked up on a monday and moved into my arcade on a wednesday. That thursday it rained and friday it snowed. Somehow it went from sunny, 80 degree weather at the beginning of the week to snowing at the end of the week. Fortunately for me the timing for everything worked out perfectly so that by the time it was snowing I was in my gameroom playing my new game: Warm, cozy and happy.

So there it is, I now have 7 awesome racing games in the Vintage Vault Arcade and I also have my first motorcycle game. Road Burners is absolutley intense and will certainly be a gameroom favorite. Atari racing at its finest!
Click on images below to view image gallery