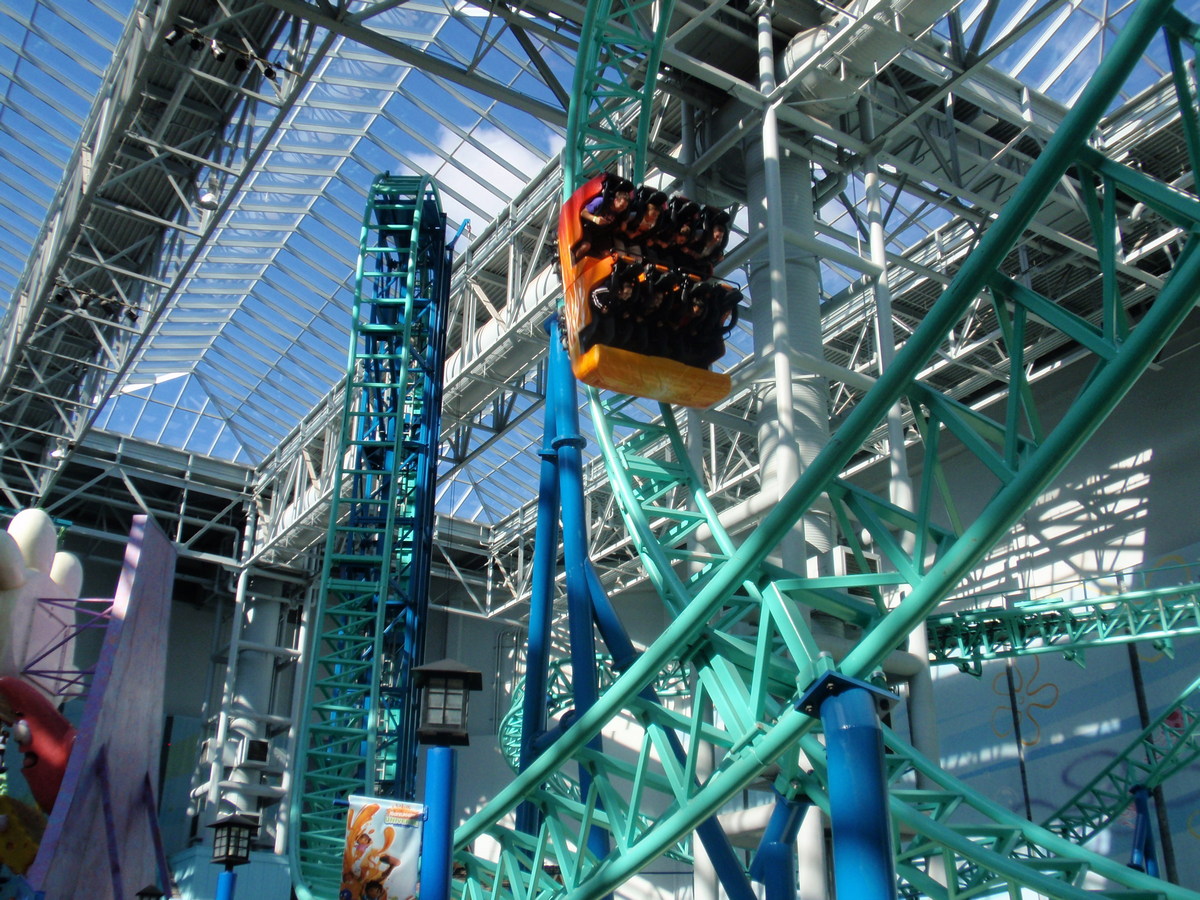 Previously on
The Great Star Wars Road Trip
(Part 2: Symphony Of An Auctioneer
- The Morning After)

• Wake up at 7:30 AM
• Skip breakfast
• Drive to Maple Grove, MN
• Check out arcade auction
• Look for a U-Haul trailer
• Bid on several games
• Got out-bid on everything
• Left for Mall of America

If you haven't read parts 1 & 2 of The Great Star Wars Road Trip then
Click here to read Part 1: Prelude To A Gameroom
Click here to read Part 2: Symphony Of An Auctioneer - The Morning After

And now, back to the road trip: Mall of America. This was only 5 minutes from our hotel room, hence we had to go. This mall is the largest mall in the United States. It is located on 78 square acres and has over 520 stores. If you spent 10 minutes in each store it would take 3 days to go through the mall. It also has its own amusement park with 25 rides and attractions, of which 3 of them are roller coasters. Way cool.

My co-pilot Todd and myself drive up and take in the immense megastructure that makes up the mall. From the outside there was a lot of concrete and steel, and we could only imagine the wonders inside. We park the van far away from other vehicles. My Star Wars prize possession does not need to garnish attention from willing thieves passing by the van. I take a last look at it once again and lock the van up tight. With that, we start the trek across the mega parking lot to the mall. As we begin to walk along the sidewalk at the building I am holding my camera trying to take a good picture of the main sign. At that moment, I hear screeching car brakes and look slightly to my right. About 50 feet away from us a women runs across the road and gets hit by a car. When she got hit she flew up on the hood of the car and both her sandals come flying off in opposite directions. I have never seen anyone get hit by a car right in front of my eyes. I was a bit shell shocked but managed to snap off 2 pictures right after the accident happened. Amazingly enough the woman appeared unharmed, exchanged a few words with the driver and took off rather quickly. Maybe she was afraid of waiting for the police for whatever reason, who knows.
AND SO BEGINS OUR DAY...

The first thing we do when we get inside the mall is make a beeline for the center. In the center is the amusement park complete with rides and roller coasters. I want to make a note that the amusement park is inside the mall and completely roofed in so it can remain operational in all kinds of weather. It is about 4 stories of open air inside the structure giving plenty of room for the rides. We purchased a daily wrist band at a kiosk and hop on our first ride, one that goes vertically up and then does several cork screws. It actually appears for a moment as if you are going to be launched right through the roof of the mall. We ride several rides then take a leisurely stroll through the mall. This place is massive and easy to get lost in. There are over 4 floors of stores. Todd picks up a souvenir for the wife, and then we go to lunch at a mexican restaurant in the mall. Next we go to the basement floor of the mall which is a massive underground aquarium. Now when I say massive aquarium, there are large sharks and sea creatures in there, and you walk through a submerged see through tunnel underneath the water. Several times a shark larger than myself was swimming several feet above my head right over the tunnel. This was absolutely amazing.

We take in a few more rides and all too soon time was getting the best of us. We had to get back on the road if we wanted to get back by 1AM in the morning. Todd picks up another souvenir for his boy and we are back on the road. The trip back was rather uneventful. We were tired, it was mostly dark and we just wanted to get home at that point. We finally pull up at my house at 12:48AM. Todd helps me unload the Star Wars and take it down to the Basement Arcade. He still has another 1 hour drive home from my house so at that we part ways. I plug in the Star Wars and fire it up for the first time inside my gameroom. I squeeze off a few games for good measure and enjoy the color vector lines and digitized voices which make the game. This is my finale, owning my very own Star Wars arcade machine and playing it anytime I want to, something I only dreamed about since I was little kid. At this point I am tired, just completely exhausted so I head to bed knowing the goodness that awaits me in the morning.

I hope you enjoyed the road trip, as I know I did and will certainly enjoy the Star Wars game that now graces my gameroom. Here's to every collector out there that they may find their own personal grail. May the force be with you, always. Enjoy the rest of the pictures from the road trip below, as well as a new video review of Star Wars!

Click on images below to view image gallery